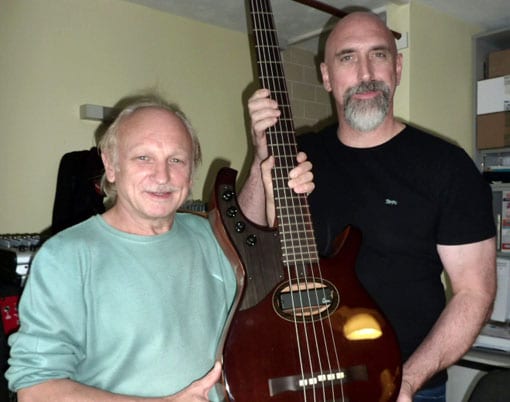 Dave picked up his bass in order to use it in the studio for a recording with Joss Stone and Jools Holland's Rhythm and Blues Orchestra, the following day.
Dave's comment post the recording: "The recording was incredible John, and my, Joss Stone's voice! It's out of this world!! The bass sounded superb, the best it's ever done, so thank you John for such an amazing job!"
This bass has a bespoke Harvey Citron piezo brdige & preamp system with EMG magnetic pickup. Dave wanted additional control with increased tonal palette, easily focused on the upper bass / lower mid spectrum, necessary for a good punchy sound in the Jools Orchestra mix. Further flexibility will enable Dave to easily come up with the right sound, taking account of the huge variation of artists he'll be working with.
For those who like to be up to speed with the technical details, the piezo and magnetic pickups are actively mixed. The Harvey Citron piezo preamp is retained since it's a hallmark of the bass. The rest of the system uses East modules along with custom pots & wiring. Controls are as follows:
Stack Knob – VOLUME / BLEND
Stack Knob – MAG PASSIVE TONE, PIEZO HF ROLL-OFF
Stack Knob – BASS / TREBLE / Pull for BRIGHT (Inc. internal user set frequency points for the bass & treble)
Stack Knob – MID / MID FREQUENCY SWEEP